UPDATE July 5, 2022: We have some great news to share! We have received the waiver to start Grab-and-Go meals for the Summer Feeding Program again. Starting tomorrow (July 6) during the lunch session, students will receive their lunch for that day as well as breakfast for the following day. There will be no breakfast served tomorrow, but students will receive it for the following day. Times will remain the same for pick up and walk-ins are still welcome to come in and have a cool place to sit down and eat.
\r\n
------
\r\n
Be sure to mark your calendars for the start of our LPS Summer Meal Program. Meals are available Monday - Friday during the specified times.
\r\n
IT IS AVAILABLE TO ALL KIDS AGE 18 AND UNDER OR CURRENTLY ENROLLED STUDENTS. There is no fee or registration required to participate.
\r\n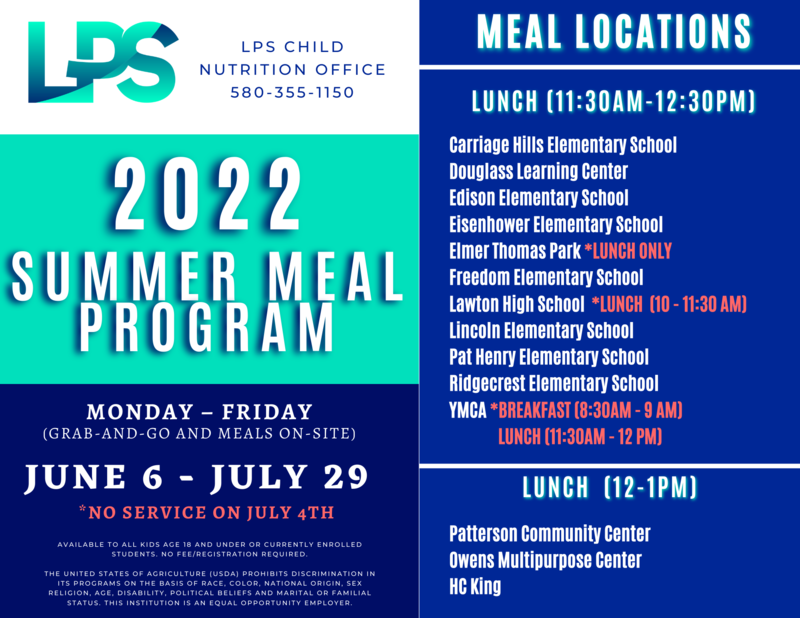 \r\n
\r\n
\r\n
THE UNITED STATES OF AGRICULTURE (USDA) PROHIBITS DISCRIMINATION IN ITS PROGRAMS ON THE BASIS OF RACE, COLOR, NATIONAL ORIGIN, SEX RELIGION, AGE, DISABILITY, POLITICAL BELIEFS AND MARITAL OR FAMILIAL STATUS. THIS INSTITUTION IS AN EQUAL OPPORTUNITY EMPLOYER.