Congratulations to our Unified teams from Mac Middle and MacArthur High schools!!! Both teams played in the unified softball tournament at Hall of Fame stadium today! MMS placed 1st and MHS placed 2nd.💚💛🖤🎊🎉 #LawtonPS #oklaed #WeAreLPS

Lawton was well represented at the State Poetry Out Loud competition today at UCO! Congratulations to AdyLynn Anderson, a junior at Lawton High, she placed first in the competition! She competed against stiff competition including MacArthur sophomore Cate Dennis and Eisenhower freshman Eesha Katta. Excellent job to all!
We are sending a BIG thank you to the Masonic Lodge, Mount Scott for their generous donation to the Lawton Public Schools Transition Program Special Olympics! #WeAreLPS #LawtonPS #oklaed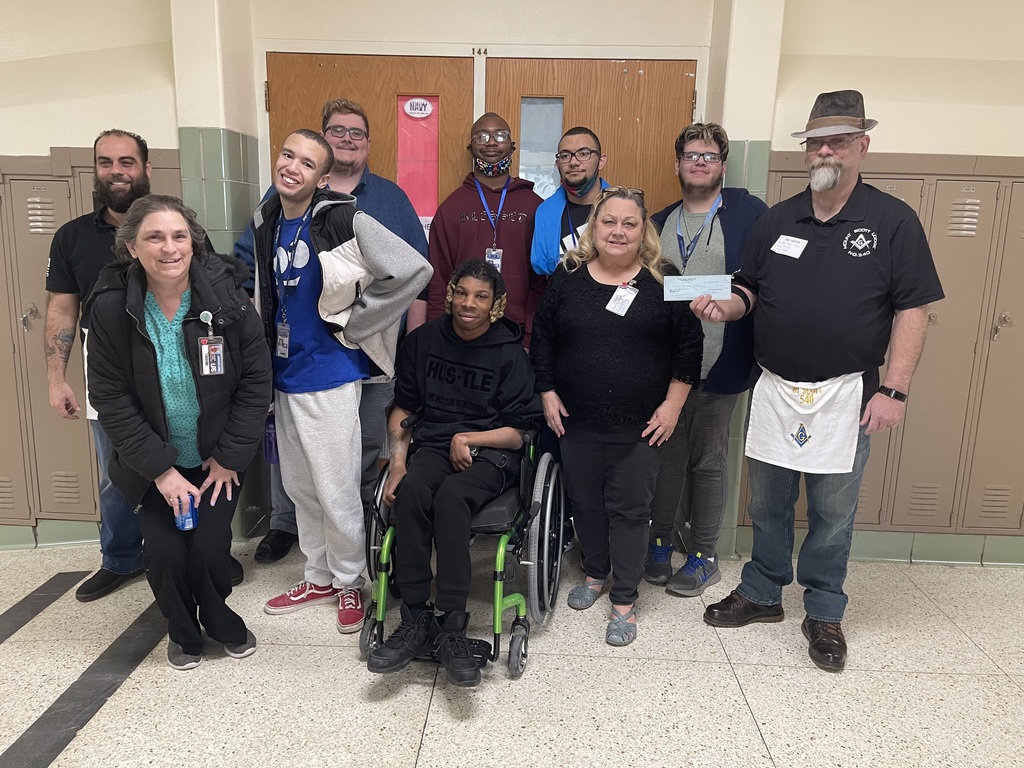 Say "hello" to parent-teacher chat and classroom announcements in the LPS app! With the addition of Rooms, our district app keeps getting better. To learn more about Rooms, please visit
https://www.lawtonps.org/page/rooms
Congratulations to #MHSHighlanders Matthew Aguilar and Ian Leroux! Both received Military Academy Nominations from Congressman Tom Cole. Matthew also received a nomination from Sen. James Inhofe and has applied to Air Force Academy and Naval Academy. Ian has applied to West Point and the Navel Academy. Be on the lookout for KSWO's Diamond Hubbard's story as she sits down with both to discuss the nominations. #WeAreLPS #LawtonPS #oklaed
LPS Native Families: Mark your calendars and join us for the Indian Education Senior Recognition Night. It will take place Apr. 26 at the Life Ready Center starting at 6 pm.
Tryouts for ALL MIDDLE and HIGH school cheer/dance squads will be held on March 26, 2022. The FINAL day to sign up & pay is Thursday, March 10 by 12 noon. See the attached flyer for more details.
The nomination period for Champions for Children is now live! Visit the link below to learn more about the award process and fill out your nomination forms!
https://5il.co/14zl1
LPS Family: Just a friendly reminder of our COVID testing schedule if you are in need of a test.
Lawton Public Schools' (LPS) eSports programs are competing in the Oklahoma eSports League (OeSL) State tournament, with playoffs set to be held during the day on Dec. 11. Eisenhower High School (EHS) and Lawton High School (LHS) will both be competing at State. Currently, EHS and LHS are in first and second place, respectively, in their divisions for Rocket League. EHS is in second place in their division for Valorant. During the OeSL State tournament, EHS and LHS will be playing Rocket League – a team-based, large scale soccer game where players control vehicles rather than people to score goals. EHS will also be playing Valorant – a team-based tactical FPS. Additionally, Eisenhower High School (EHS) and MacArthur High School (MHS) will be competing in the first round of the PlayVS/OSSAA State tournament on Dec. 3. Eisenhower and MacArthur both made it into the state tournament bracket consisting of 42 total teams with Eisenhower being the No. 4 seed, and MacArthur being the No. 16 seed. MHS' game will be at 4:00 p.m and EHS' game will begin at 4:30 p.m. Those interested in viewing the competition should tune in to
https://www.twitch.tv/IKE_esports17
or
https://www.twitch.tv/lawtonmhs
to keep up with EHS or MHS' performance.
Congratulations to the following students for advancing to the final round of the OMEA All-State Vocal Music auditions November 13, at UCO. Good luck to Ava Hess, Sage Milouse, Sierra HIll, Taylor Dominguez, Julian Davis, Trina Murrell, Aaliyah Morales, Emily Daniel, Ryann Behrent.
In this issue of the Lawton Public Schools (LPS) ReView, we highlight our very own LPS Police Department and their efforts to promote consistently drug-free environments for our students, celebrate Hispanic Heritage, and congratulate student successes. Additionally, we wanted to put a spotlight on our teachers' ongoing professional development, our TAP students, and our hardworking virtual staff. There is so much to unpack in this issue, and we hope you will take the time to really dive in to our latest publication of the ReView! Visit this link to see the full publication, and be sure to use your left and right arrow keys to switch pages!
https://indd.adobe.com/view/142ac40a-6959-4279-8ea3-5eb41f707c74
Students, Do not forget to turn in your Federal Aid Cards!! Have a great weekend!!
Next week is our annual Spirit Week! Our theme this year is: Home Sweet Highlanders! Our dress up days play on the word "sweet": Monday - Rolo-ver and get out of bed! (PJs) Tuesday - Mystery Airhead (white lie - put a white lie on a white t-shirt - Tik Tok trend) Wednesday - Cow Tails (Western) Thursday - Mike & Ike (twin/dynamic duo) Friday - Skittles, Taste the Spirt (Color Wars = 9th - yellow, 10th - orange, 11th - green, 12th - pink, faculty - blue = wear the grade you teach OR blue for faculty!)

LPS Families: Just a friendly reminder that clear or mesh backpacks will be required for the 2021-2022 school year. This is for all LPS sites. Bags can be any color.
LPS Families: Just a friendly reminder that "Check-In" will take place this week at your student's school. Please click the link below for details. In addition, two forms (Electronic Agreement & Acceptable Use/Media Opt Out) have been added to the required forms list. For specific questions, you can reach out to your student's school.
https://www.lawtonps.org/page/check-in

Students have an opportunity to learn more about the University of Oklahoma and its American Indian community at American Indian Visitation Day on Friday, September 10, 2021. This on-campus experience is designed for American Indian high school seniors. The day will include sessions focused on equipping American Indian students for success in both academic and student life. Parents, family members, and supporters may attend with their student and will have the chance to hear from staff and alumni on how to provide support for their student's academic career. This event is a great opportunity for students to personally meet folks from OU's American Indian community and feel the support before they arrive on campus as a student! Registration link:
https://hello.ou.edu/register/AIVD2021
Space is limited, so be sure to register soon! If you have any questions, please contact OU Diversity Enrichment Programs at 405-325-2151 or
dep@ou.edu
.
Happy Friday LawtonPS Family: We are less than three weeks away from the start of the new school year. For the latest LPS info be sure to check out our Friday FYI's which include the latest edition of our Time with Hime podcast. Have a great weekend!
https://www.lawtonps.org/article/497104
LawtonPS Families: It's almost Check-In time! It will be in-person this year. We are excited to see our students again. Please click the link below for more details and required district forms that will help speed up the process that day. Thank you.
https://www.lawtonps.org/page/check-in

LPS Families, Please mark you calendars for the following dates. We will provide more information on required forms as we closer to the check-in days! We can't wait to see you there!