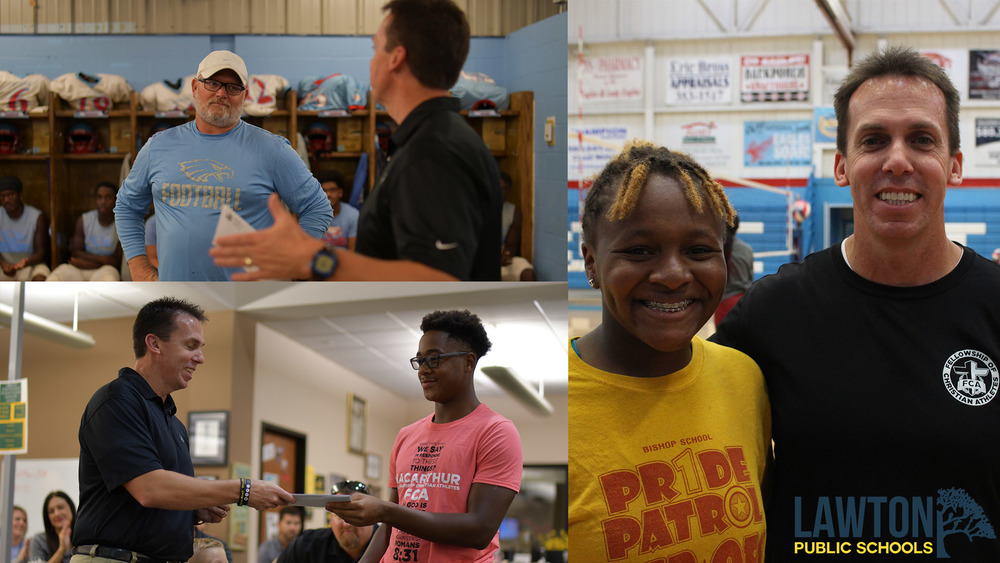 FCA September Athletes of the Month
Lawton Public Schools
Thursday, October 10, 2019
Students develop the academic side of their brain, as well as their character in their classrooms, through participation in extracurricular activities, and through involvement with the community. Coaches and teachers have the opportunity to nominate students they believe exhibit excellent character on the field or court, in the community, and in the classroom. Each month, Fellowship of Christian Athletes (FCA) Southwest Oklahoma and Academy Sports and Outdoors recognizes two students as Athletes of the Month and one coach as Impact Coach of the Month.
The September FCA Athletes of the month are Eisenhower High School (EHS) freshman Veronica Threats and MacArthur High School (MHS) senior Deshaun "DD" Davis. The Impact Coach of the Month is EHS football coach Eric Gibson.
FCA Southwest Oklahoma area representative Richy Large presented each individual with their award. These athletes and coach demonstrated FCA's four core values: integrity, serving, teamwork and excellence, not just in their sport, but in the classroom and community.
Threats is a Lady Eagles volleyball player. Her coach said she demonstrated good character on and off of the court, has a positive attitude and is supportive to her team. She is a good sport and she learns a lot about how to demonstrate good citizenship through JROTC. She demonstrates humility, helps others on the team improve on their skills and is dependable.
Davis is a Highlander football player. He is a part of the MHS FCA leadership team, he leads the team prayer before every meal, he leads by example and practices what he preaches.
Coach Gibson is the EHS head football coach. Gibson has high expectations for his team—he sets boundaries for them, pushes them, and holds his players accountable for their actions. He has plans in place for his players and wants them to be responsible community members.
The student award recipients received various goodies, including an FCA t-shirt, an Academy gift card and a free Texas Roadhouse dinner. The impact coach received a free dinner for two at Texas Roadhouse and two movie tickets to Patriot 13 theater.
Any coach, teacher or principal can nominate students and/or coaches for these awards who they think exemplify FCA's four core values. Contact Richy Large for more information: rlarge@fca.org.