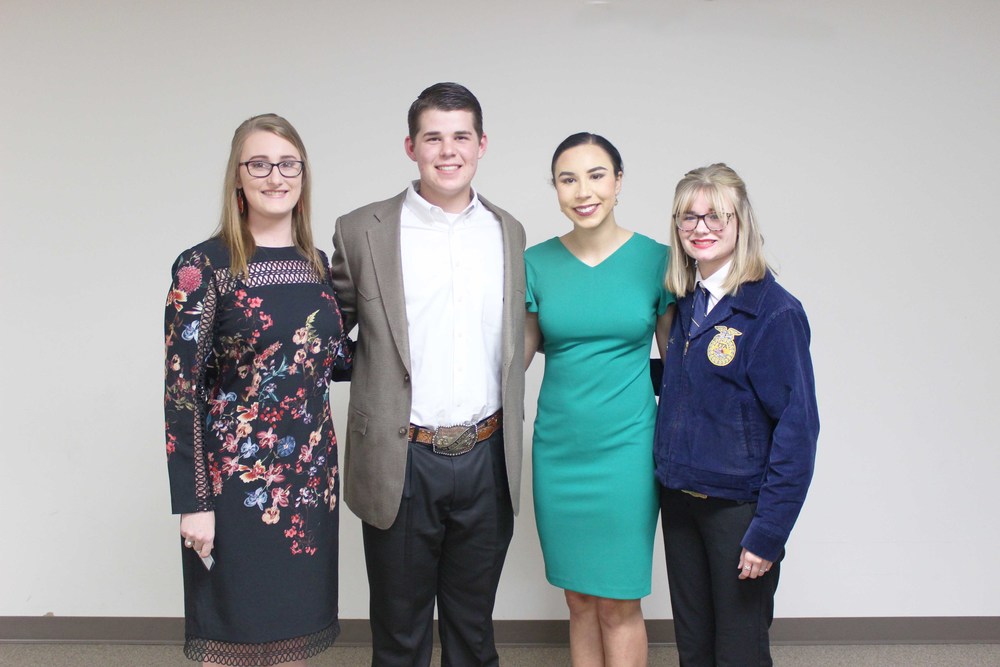 Cotton Electric FFA Award
Lawton Public Schools
Monday, April 29, 2019
The end of March meant the end of the 2019 Cotton Electric Youth Tour competition. Since November of 2018, students competed to win an all-expense-paid trip to Washington, D.C., as part of the Rural Electric Youth Tour program.
Students wrote essays that reflected the topic "What do you find most interesting about electric cooperatives?"
Each essay received a number as it arrived, in order to be judged anonymously. After the first round of competition, the essays were narrowed to the top 25, and the students were invited to Cotton Electric for an in-person interview.
Students were asked, among other questions, to state the difference between cooperatives and other businesses and why they would make an excellent representative for Cotton Electric in Washington, D.C. The results of these interviews determined the 10 finalists, listed by school:
Big Pasture High School: Harli Clem and Taylor Gebhart
Central High High School: Aryanna North
Lawton High School: Shalei Okamura and Jadeyn Perry
MacArthur High School: Colby Gilpen
Marlow High School: Aurelia Holguin and Melinda Whiteman
Walters High School: Jessie Bone and Breighannon Hanks
The top 10 arrived at Cotton Electric on March 28 for the final phase of the competition. Each high school junior gave a five-minute oral presentation of their essay. Students presented their speeches to Megan Lawrence, manager of member services and marketing for Rural Electric Cooperative; Jarrod VanZant, public relations manager for Canadian Valley Electric Cooperative; and Beth Pennington, billing and youth programs coordinator for Harmon Electric.
One speech showcased the co-op's local-minded values stating, "electric cooperatives consider their community residents their members, rather than customers," and another concluded with "rural co-ops are a shining example of what it means to put their community first."
One student reflected on the co-op's foundation to meet a need in the community by stating "not only are electric cooperatives known for bringing power to the countryside where it had never been before, but they are also famous for seeking ways to improve the quality of life for their members and communities." Another student highlighted Cotton Electric's continual support of the community today, noting that "the co-op's community efforts involving schools, education and giving back are widespread and affect every member directly."
After each student presented, the judges determined the four winners. Each speech was weighted 50 percent on speaking ability, 30 percent on knowledge of subject, 10 percent on poise, and 10 percent on personality and appearance. Total scores revealed the students who would represent Cotton Electric in Washington this summer: Jessie Bone, Colby Gilpen, Aurelia Holguin and Aryanna North.
The quartet will join 1,500 students from all over the United States and follow itineraries filled with activities from the moment they arrive until the day they fly back home. The students will have an opportunity to visit with Oklahoma's congressional delegation and learn about government, the cooperative form of business, and the business of rural electrification.
They will become more familiar with the historical and political environment of the nation's capital through visits to monuments, government offices and cooperative organizations. These young Oklahomans will become more knowledgeable about their country, their government and our nation's capital.