EDIT MAIN
Welcome to "Central Middle School"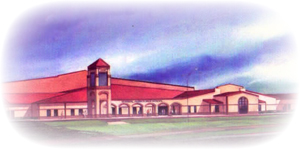 Mission
Central Middle School promotes positive growth through excellence in education!
School Creed
I am a proud Central Cougar.
Everyday I choose to learn.
I choose to trust my teachers, administrators and staff.
I choose to respect others and myself.
I choose honesty and compassion in my daily life.
I believe the choices I make today will affect my tomorrow.
I am a proud Central Cougar.
Our Facility
The new building, located at 1201 NW Ft. Sill Boulevard, opened its doors in January 2003. Building statistics include 187,000 square feet, affording space for 209 rooms including 58 classrooms, two gymnasiums, an auditorium with seating for nearly 1,000, and a large library-media center. In addition, a spacious kitchen is located off a large multipurpose dining and activities area.
Our History
CMS is unique in that, although it is the newest built middle school within the Lawton Public School District, it has a one hundred year tradition of excellence in education. Previously located at 809 C Avenue, the original building offers a history that developed in concert with the growth and values of Southwest Oklahoma and the city of Lawton. Recognition of Central's contributions to the area garnered its placement in the National Register of Historic Places as of February 1997.
Despite the uniqueness of attending classes in an historic institution, general conditions due to the building's age were a concern to patrons, building personnel and Board of Education members. In response to this concern, Lawton voters approved a 1999 bond issue to allow construction of a new site at its current location.
After extensive renovations and a newly refurbished dome by the City of Lawton, the old building has become Lawton City Hall and will continue to serve the community for the foreseeable future.
Lawton - Ft. Sill Community
Lawton - Ft. Sill is the fourth largest metropolitan area in Oklahoma with a total population nearing 100,000. The main industry is the military base followed by Goodyear Tire and Rubber Company. The median income as noted in the 2000 census, is $28,736.
The community exhibits a positive, progressive attitude toward learning and views it as a life-long process. Validity of this statement is shown by:
1. the educational attainment of its adult citizenry
2. the presence of a strong career-tech system and Cameron University
3. the availability of non-school programs and facilities that enhance continued learning
4. the direct support of schools by businesses and organizational entities
POPULATION
CMS is a diverse community with nearly 60% minority. The largest minority is African American followed in order by Hispanic, Native American and Asian. It is also on the lower end of the socioeconomic scale. Approximately 70% of the students receive free and reduced lunches.
Slightly over 35% of CMS students are from military families. This factor leads to an annual turnover rate of 30-35%.
Approximately 18% of the enrollment meets the criteria for special needs programs, and they are provided services in a variety of venues.
Another 15% are identified as gifted and talented.
INSTRUCTIONAL CHARACTERISTICS
Our goal is the development and enhancement of knowledge, attitudes and skills necessary to participate effectively in a technologically orientated society of free choice. In order to meet this goal, numerous courses.
Our daily schedule is arranged to enhance learning by aiding students in developing organizational skills and in completing homework. Seven instructional periods of approximately 47 minutes each, are followed by a 20 minute 8th hour study period.
Instructional support services are provided by five computer laboratories. One lab is designated for teaching computer skills four hours daily. A second lab is connected to the internet and is available before and after school as well as during all instructional periods. A third lab is utilized for word processing and educational software focusing on teaching specific objectives in math, social studies, writing, reading, and science. A fourth lab, I Can Learn (ICL), is utilized for self-paced math curriculum instruction. A mobile lab is available for research-based core curriculum instruction.
The CMS Library is at the very heart of Central Middle School. Located right off the Cougar Plaza, students enjoy the vast selection of books and magazines that are available for checkout. With over 15,000 current, interesting and award winning titles to choose from, students utilize our services on a daily basis. Monthly circulation of books continues to grow but at present, we average over 2500 books checked out per month.
The CMS Library is also the home for two book clubs: The Anime Book Club and the Book Divas. Special annual events include: Teen Read in October, The Scholastic Book Fair in December, Flurries of New Books in January, and a Poetry Contest in April in celebration of National Poetry Month and National Library week. Come in often, as you will see creative art on display and various other reading promotions!
Twenty five student computers are also available for doing library catalog searches, internet research, and word processing. The LPS Media Center provides a filtering device so that only appropriate websites may be accessed and viewed on all computers. Teachers and Parents also utilize the professional section which is housed in the Reference Section.
A Student Store is also available for the convenience and fair pricing of school supplies.
ATTENDANCE AREA
CMS provides services for students who reside in Ft. Sill family housing or in the community areas bordered on the north by Rogers Lane, the east by Highway 281, the south by Bishop Road and the west by a meandering line extending from 11th Street and 15th Street to Sheridan Road.
Bus services are provided for 60% of the total enrollment. This number has a definite impact on the potentiality of developing extensive extracurricular programs. Coaches and club sponsors not only plan activities, practice sessions and game strategies, but also give consideration to arranging ways home for students who families often do not have access to personal transportation. City support is given through the offering of reduced student rates for youngsters who choose to rid the LATS buses.