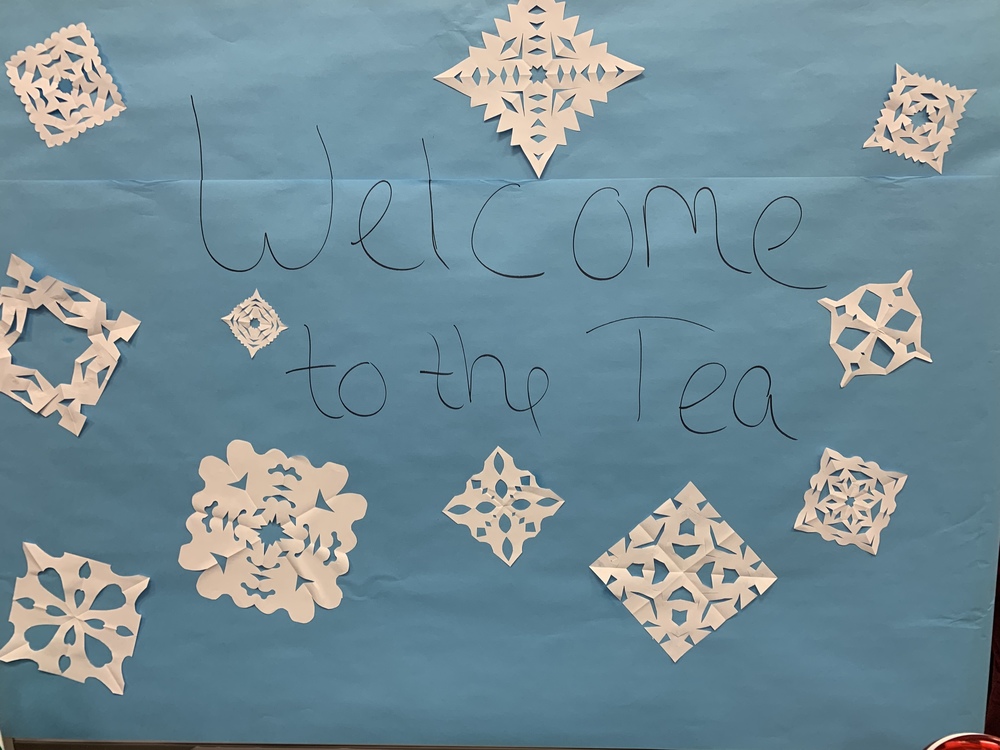 Central Middle School's Annual Christmas Tea
Written by Dr. Tom Deighan, LPS Superintendent
Monday, December 17, 2018
Anyone driving down Fort Sill Boulevard Wednesday may have noticed something out of the ordinary. If you didn't feel the thumping bass or see the spotlights criss-Kringling the sky, the sleigh and reindeer atop Central Middle School certainly caught your eye. As you can imagine, this was no normal Navidad but the annual CMS Christmas Tea, the nuclear Noel of the season when Santa's elves get their last chance to kick off their curly-toed slippers before loading up the sleigh. Elves love Central Middle School because they can blend right in (besides the pointy hats, due to Santa's strict dress code). The big guy himself was there, but he was not the guest of honor, for he brought a date. When Santa comes all the way from the North Pole, it's special, but when Mrs. Claus is in the house, it's a party!
Mr. and Mrs. Kringle were just two of the many dignitaries in attendance Wednesday at the Christmas Tea – a holiday extravaganza involving staff, students, and parents. There was singing and dancing and a little flirting going on but no mistletoe to be found. It is a middle school, after all, and that may be asking for trouble. Please be assured that nothing ever got out of hand, however. We had more than enough supervision with hundreds of students keeping their eyes on us adults. What happens at Christmas Tea generally stays at Christmas Tea, although someone has reportedly bootlegged at least one photo of a certain superintendent in time out with Mr. and Mrs. Santa. And if you hear any reports that Principal Thomas had a little too much Christmas cheer, I can assure that things were much worse than reported for he cannot handle his Christmas cookies. Thankfully, several staff were on hand to stop his interpretive dance to "The Little Drummer Boy." He, too, spent some time out with the Clauses – as a subordinate Claus, so to speak – but they were not the only staff members ho-ho-hoeing.
Every Central Middle School staff member joined in, but certain staff members really rocked the Christmas tree in the CMS library. Ms. Brinsfield and Ms. Owens battled it out with dueling turntables, mixing and mashing classic Christmas carols, illustrating that the lyrics to Christmas songs do not always line up as expected. Ms. Svec and Ms. Cargill led everyone in a holiday version of the "Chicken Dance," which was topped off with a conga line of students, staff, and elves led by Ms. Leighow. A few reindeer joined in but got so excited that they left the conga line and began flying around the library. At least one student held on for the flight, nearly crashing into the cougar. Another showed impressive horsemanship, or reindeership, by quickly mounting Blitzen for a ride that would have earned him a buckle at any rodeo.
The real stars of the day, however, were the students who hosted guests with grace and hospitality. No one went away hungry, and I discovered a new favorite. Oreos are pretty delicious already, but crushing them up and dipping them in chocolate is downright sinful. The only thing that could make them better might be some cream cheese . . . and bacon. (I think I just created the perfect dessert.) The students sang Christmas carols for each other, and when not serving or performing, enjoyed the party with their parents and each other. Rudolph partied so hard that his nose burned out. Fortunately, Mrs. Claus keeps extra batteries on hand for such occasions. We all surfed a Yuletide wave that will carry us merrily into 2019. It makes me wish that school was in session on December 31st, because this crew would throw a New Year's Eve party that would make Dick Clark proud. I wish to thank the staff, students, and parents of Central Middle School for your annual Christmas Tea. And please forgive if I confused some of the details, I may have had too many Oreo balls. You captured the Spirit of Christmas for all of LPS. Merry Christmas and Happy New Year, Lawton Public Schools!