Lawton Athletic Foundation Gridiron and Family Fun Day
Athletic Department
Thursday, May 17, 2018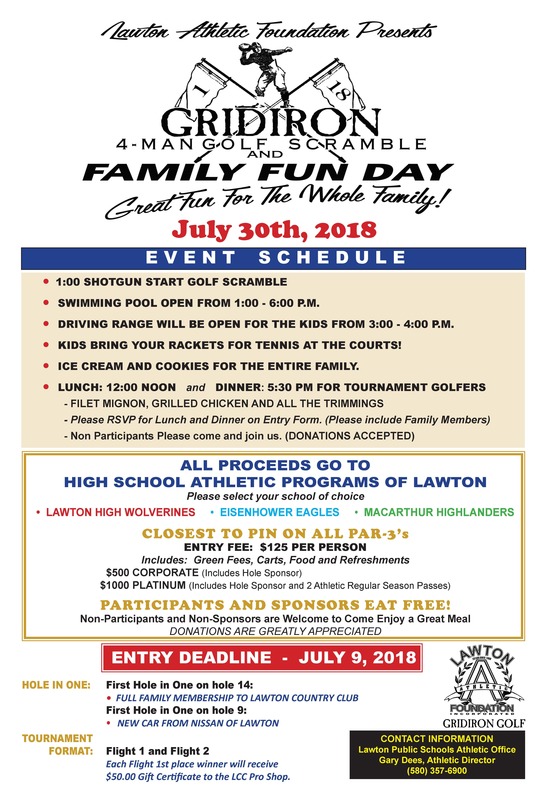 Mark your calendar for the Annual Gridiron 4-Man Golf Scramble and Family Fun Day July 30th at the Lawton Country Club!
Event Schedule:
1:00 SHOTGUN START GOLF SCRAMBLE
• SWIMMING POOL OPEN FROM 1:00 - 6:00 P.M.
• DRIVING RANGE WILL BE OPEN FOR THE KIDS FROM 3:00 - 4:00 P.M.
• KIDS BRING YOUR RACKETS FOR TENNIS AT THE COURTS!
• ICE CREAM AND COOKIES FOR THE ENTIRE FAMILY.
• LUNCH: 12:00 NOON and DINNER: 5:30 PM FOR TOURNAMENT GOLFERS
- FILET MIGNON, GRILLED CHICKEN AND ALL THE TRIMMINGS
- Please RSVP for Lunch and Dinner on Entry Form. (Please include Family Members)
- Non Participants Please come and join us. (DONATIONS ACCEPTED)
For more information, contact LPS Athletic Director Gary Dees at 580-357-6900.