Pre-K Pumpkin Patch Field Trip
Freedom Eagle
Monday, October 02, 2017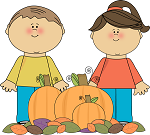 PRE-K PUMPKIN PATCH FIELD TRIP!!!
All Freedom Elementary Pre-K classes will be visiting the pumpkin patch at First United Methodist Church in Lawton.
We will be visiting the Pumpkin Patch at 10:00, and then return to Ft. Sill to have lunch and recess at the Functional Fitness Center on Craig Rd.
Please fill out and return the attached permission slip and $1.00 by Thursday, October 12.
Classes going Monday, October 23 Classes going Wednesday, October 25
Dugger Baker
Gardner Porter
Henry Rooney
Hull Weiss
Parent volunteer info:
Each class needs 2 parent volunteers. Contact your child's teacher to see if spots are still available.
Parents must complete FERPA training with Mrs. Shanklin PRIOR TO the day of the field trip.
No younger siblings, please. This is a class field trip and we need your help supervising the students.
**Please contact your child's teacher if you have additional questions.