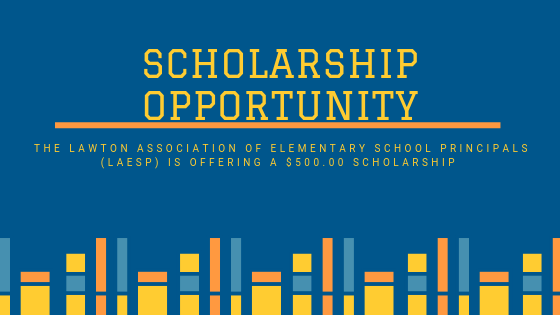 $500 Educational Scholarship
Lynn Cordes
Thursday, April 25, 2019
The Lawton Association of Elementary School Principals (LAESP) is offering a $500.00 scholarship this year to a senior seeking a career in Education.
To qualify for this scholarship, one must plan to pursue a degree in Early Childhood Education, Elementary Education, Physical Education, or Music Education. The scholarship is open to graduates of Lawton Public Schools who will attend an Oklahoma University.
They must have a high school average of 3.1 or above. A high school transcript must be attached and an essay/ paragraph stating educational goals for pursuing this degree along with need for this scholarship. If interested in applying, please complete and return the attached application by MAY 1, 2019.
Please direct all inquiries to Sharon Havron at shavron@lawtonps.org.